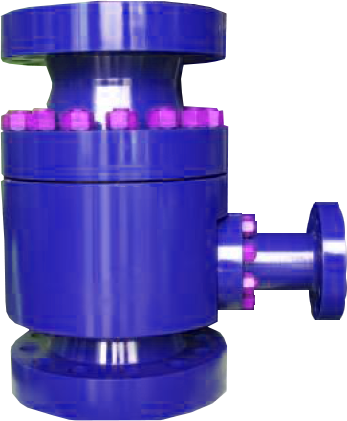 ED Series – Automatic Recirculation Control Valves
ED Series Automatic Recirculation Valves (ARC valves) are suitable for bypass with high-pressure differential, a maximum pressure differential is 30MPa, and the specific choice is determined by the factory. Multistage decompression type M type bypass can eliminate noise made by high-speed flow medium, prevent damage of cavitation erosion and braising to valve components.
Automatic Recirculation Valve Working Principle
According to the difference of inductive main flow, the main valve disc check cone of the Automatic recirculation valve will automatically move to a certain position. At the same time, the main valve disc drives the bypass valve stem, transfers the movement of the main valve disc to bypass, through control bypass valve disc position, changes the bypass throttling area, so as to control bypass flow. When the main valve disc back into the valve seat closed, all flow backflow through the bypass. When the valve discs rise to the top position, the bypass is fully closed, all the flow of pump flow to the processing system.
This valve set four functions in one body:
Flow perception: Automatic recirculation valve main valve disc can automatically perceive the main flow of the processing system, thereby according to the flow to determine the position of the main valve disc and bypass disc.
Recirculation control: Automatic recirculation valve can inhaled pump normal operation required minimum flow into storage device through the bypass, so as to adjust pump H – Q characteristics, to realize recycling.
Bypass multistage pressure reducing: bypass control system can reduce the backflow medium from the high-pressure pump outlet to appropriate backflow to the low-pressure storage device with low noise small wear.
Check: The automatic recirculation valve also has a check valve effect, preventing the liquid backflow to the pump body. Bypass non-return function is standard.
A special bypass size can be customized. The max flow rate of the bypass is subject to the max Kv value.
| | |
| --- | --- |
| Model | EB7 |
| Size | 1" to 6" |
| Set Pressure | PN10~PN400(ANSI 150Lbs~ANSI 2500Lbs |
| Connection | Flange connection standard is according to DIN or ANSI, another standard |
How Do Back Pressure Valves Work?
This valve is self-support type, do axial movement along with valve disc by spring force function, so as to generate differential pressure around the back pressure valve. Meanwhile, the valve seat hole opening bigger and bigger gradually until pressure differential reaches the setting point.
Installation
In order to make the valve achieve to the best performance, BPV should be installed in downstream of the important protected valve, since valve outlet velocity is high, the installation location should be close deaerator or water supply tank.
Maintenance
Be easy to operation and maintenance. We can provide installation and maintenance manuals.
How Do A Back Pressure Valves Install?
In order to make the valve to achieve best performance, YB7 should be installed in the downstream of the protected valve, since valve outlet velocity flow is high, installation location should near close to deaerator or tank.
Installation Location Chart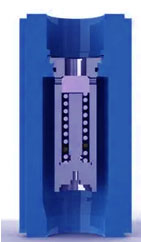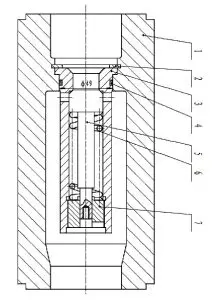 Material Temperature Range
Body material
Sealing material
A105
LF2
F304
F316
NBR
-20~+100
-30~+100
-30~+100
-30~+100
FKM
-20~+200
-40~+200
-40~+200
-40~+200
PTFE
-20~+230
-40~+230
-80~+230
-80~+230
Stainless steel gasket
-20~+300
-40~+300
-196~+300
-196~+300
Model Selection
EB
7
Nominal Pressure
Body Material
Nominal Diameter
Structure Type
Back Pressure Valve
7 series
PN16=PN16
Class 150LB
=CL150
C=A105
LC=LF2
P=304
PL=304L
R=316
RL=316L
DN50=50
NPS2"=2"
D=Water type
F=Flange connection
S = Overflow function
For example, 7 series BPV, Class 1500#, the body material is A105, diameter 2″, flange type connection,
Model: EB7-PN40-C-50-F
Multistage Minimum Flow Control Valve
EHD multistage cage control valve used a multilevel cage symmetric sleeve control valve.
It complete control medium velocity within the valve, and greatly reduced noise made by high-pressure gas or steam within the valve, stabile multistage pressure reduces effective prevent liquid cavitation, so it's the stable control valve used in high-pressure medium performance, customers can also select multi-spring diaphragm mechanism or pneumatic actuators
Model
EHD
Body Type
Direct casting ball-type valve
Nominal Diameter
DN20, 25, 32, 40, 50, 65, 80, 100, 200
Nominal Pressure
PN 1.6, 2.5, 4.0, 6.4, 10.0, 16、25Mpa CLASS 150, 300, 600, 900、1500Lb
Connection
Flange: FF, RF, RTJ, welding: SW, BW
Flange Distance
according to IEC534
Sealing Gasket
Metal with graphite gaskets
Packing
V type PTFE, flexible graphite, etc.
Bonnet Type
Standard type lengthened (heat dissipation, low temperature, bellows sealing).
Actuator

Pneumatic, multi-spring actuator.

Electric: 3810L series, PSL series.

Valve Disc type
multistage cage sleeve type.
Flow characteristics
Equal Percentage, Linear.
Disc Material
Standard material composition and applicable temperature, pressure range, please refer to the appendix.
Customized selection
Body
Type
Direct
Bonnet
Model
Standard, lengthened
Material
WCB, WC9, 304, 316,etc.
Material
WCB, WC9, 304, 316,etc.
Disc
Characteristic
Linear, equal percentage, quick opening
Packing
V type PTFE
Flexible graphite, below the sealing
Material
304, 304+STL/PTFE, 316, 316+STL/PTFE
Actuator
Pneumatic
Electric
Positioner
Electric valve positioner, intelligent digital positioner
Accessories
Solenoid valve, valve position feedback device, hand-operated mechanism, lock-up valve, air filter pressure relief device, etc.
Material and internal structure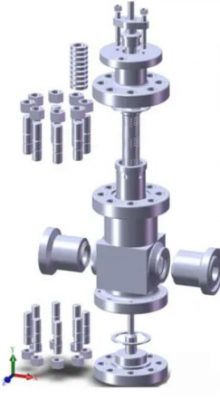 Material And Internal Structures
The above is a standard configuration structure, the valve seat is metal to metal, and we can still provide strengthened trim with stellate alloy coating. For specifically applicable temperatures, we have more reasonable bolts, nuts to choose from.
PTFE v-shaped ring stem packing is the standard configuration and can also choose flexible graphite.
Standard body material is carbon steel and stainless steel, and we can still provide various high corrosive-resistance alloy materials.
Body Material: Carbon Steel
1
Seat
25
LF2
F22
2
Nut
25
35
25Cr2Mo1VA
3
Stud
35
40MnB
25Cr2Mo1VA
4
Gasket
316+graphite/PTFE
5
Body
25
LF2
F22
6
Seat
304
304
304
7
Stem
304
304
304
8
Stud
35
40MnB
25Cr2Mo1VA
9
Nut
25
35
25Cr2Mo1VA
10
Gasket
316+graphite/PTFE
11
Packing gasket
304
304
304
12
Stuffing
PTFE/Flexible graphite
13
Bonnet
25
LF2
F22
14
Pressing sleeve
304
304
304
15
Gland
25
LF2
F22
16
Nut
35
40MnB
25Cr2Mo1VA
17
Stud
25
35
25Cr2Mo1VA
Body Material: Stainless Steel
1
Sest
CF8
CF8M
CF3M
2
Nut
304
316
316L
3
Stud
304
316
316L
4
Gasket
316+graphite/PTFE
5
Body
CF8
CF8M
CF3M
6
Seat
304
316
316L
7
Setm
304
316
316L
8
Stud
304
316
316L
9
Nut
304
316
316L
10
Gasket
316+Graphite/PTFE
11
Stuffing gasket
304
316
316L
12
Stuffing
PTFE/Flexible graphite
13
Bonnet
CF8
CF8M
CF3M
14
Pressing sleeve
304
316
316L
15
Gland
CF8
CF8M
CF3M
16
Stud
304
316
316L
17
Nut
304
316
316L